When someone asks you your favorite color you usually reply with answers like red,blue,orange,yellow,green and so on you know the straight forward but pretty basic answers becacuse you tell them what you like cause they asked the question.But when my friends ask me my favorite colors I like to reply with more of a creative answer with ''my favorite colors is seafoam green and cranberry''.I don't know about any of you but when I was a kid my parents bought me the 64 pack of crayons and not a off brand I reccived Crayloa crayons and that made me so excited I was a child who always enjoyed to color to this day I still do!I also loved Reading Rainbow and when they went to the crayon factory on there it made me want to color even more and I really wanted to go to one someday I would love to visit a crayon factory!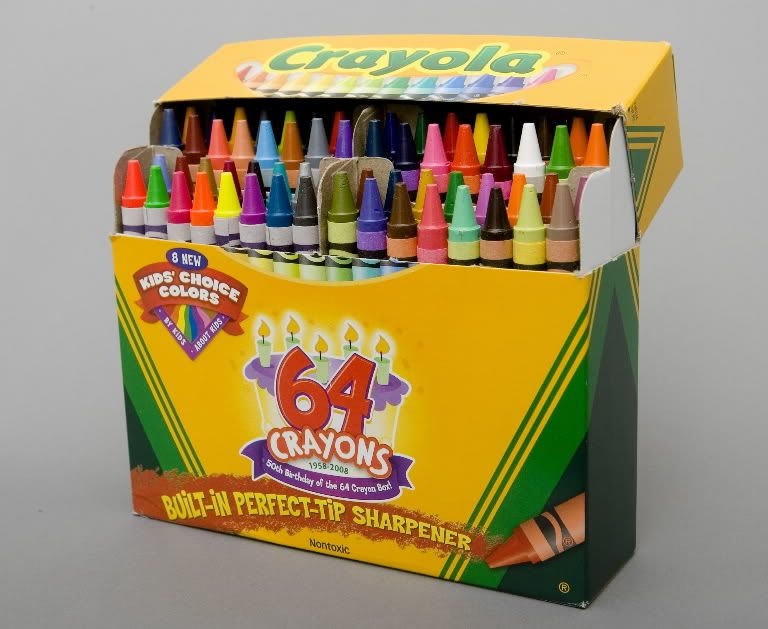 This is like the box of crayons I owned!
I would like to share some images of my two favorite colors
A awesome color for a phone
I would love this color for a car and own this car lol!
A gorgeous color to rock out on;)
I really like this asymmetrical ruffle dress
I need a bag like this!!!!!!!!!!!!
A bridesmaid dress
A very pretty necklace with gold
Now my other favorite color!
Lipstick
Cranberry Fields look really cool
The snack that's tasty and healthy at the same time what's better than that?
I really love this color it's so classy and fresh
New, all-cotton stretch dress in cranberry by Theme. Very roomy fit, long bubbly sleeves and reversed shirring at highwaist is super flattering and ULTRA comfy, just $46!
Even cranberry look great on little girls
Way beyond adorable shoes
Here's me wearing my two favorite colors Seafoam Green and Cranberry.
So next time you're asked what your favorite color is will you answer with a basic color or will you respond with an out of this world reply?
Song of the day Airplanes 16 Wishes remix by Debby Ryan and friends.
xoxo allie